Photon Meso Roller
You are here: > Home > Products > Photon Meso Roller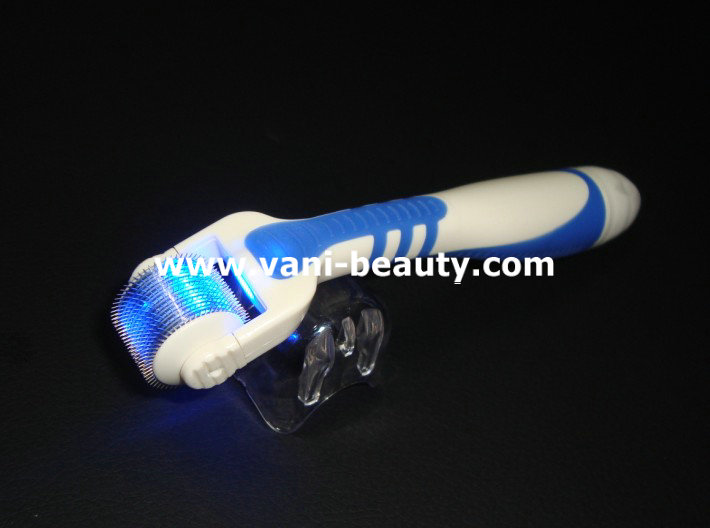 Share to:
Send Inquiry
LED Derma Skin Roller with 540 Needles
P5002
540 stainless steel needles;
Blue light energy;
| | |
| --- | --- |
| Feature: | Anti-Hair Removal, Anti-Puffiness, Blood Vessels Removal, Breast Enhancers, Cellulite Reduction, Dark Circles, Moisturizer, Pigment Removal, Skin Rejuvenation, Weight Loss, Whitening, Wrinkle Remover |
LED Derma Skin Roller with 540 Needles
The theoretical basis of the photon therapy is that biological tissues absorb the light energy and transfer light energy into heat and chemical energy, resulting in a series of chain reactions of human body, there are four types: light-induced decomposition, light-induced oxidation, light-induced polymerization and light-induced sensitization. Different wavelength of light has different biological effects:
1. 633nm Red light high-energy narrow-band, speed up healing to make human muscle and skin cells grows 5 times of the normal rate, increase endurance and resistance to fatigue, prote cell metabolism.
2. 405nm Blue light to eliminate acne inflammation: Antibacterial, anti-inflammatory, renewal, inhibit sebum secretion, has anti-aging effects, make the skin soft, smooth, white and charming.
3. 590nm: 5nm Green light is used to relax the skin, let the patient get relaxed from hard work.
4. 590nm: 5nm Yellow light will give energy for the skin; improve immunity ability for the skin.
5. Resonate with mitochondrial of human tissue, strongly absorbed by mitochondria, produces enzymatic reaction.
6. Output power 1-30mw.
7. Can use close irradiate accurately on parts.
micro needle
,
led skin roller
,
beauty equipment
,
skin derma roller