192 Derma Roller
You are here: > Home > Products > Face Derma Roller > 192 Derma Roller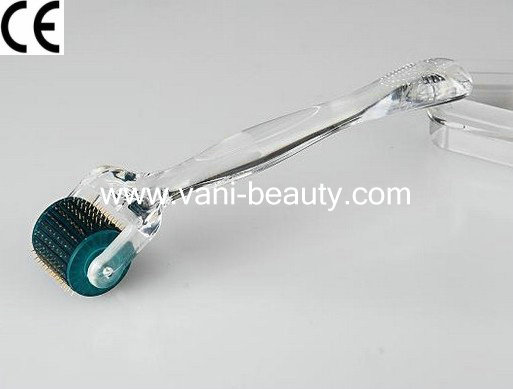 Share to:
Send Inquiry
hot export derma roller with CE
A0004
nti-Hair Removal, Anti-Puffiness, Blood Vessels Removal, Breast Enhancers, Cellulite Reduction, Dark Circles, Moisturizer, Pigment Removal, Skin Rejuvenation, Weight Loss, Whitening, Wrinkle Remover
Size: 0.2mm, 0.25mm, 0.3mm, 0.5mm, 1.0mm, 1.5mm, 2.0mm
1. 192 titanium needles;
2. ABS handle;
3. CE certifocate
ZGTS derma roller micro needle for scars removal wrinkle removal
Portable Titanium alloy ZGTS Derma Roller for Skin Care (192needdles)
Microneedle therapy uses a knead rod in layed with 192 needles,accompanying with functional nutrition liquid,regularly rolling in the places which need to cure,it can puncture more than 250,000 micro vessels on the epidermal within five minutes,form a efficient nutrient delivery system in the epidermis and subcutaneous tissue,with which the active ingredient of the nutrition can enty into skin effectively.Then make skin maintenance,skin care,skin treatment and skin beauty to be perfect.Mictroneedle therapy has the advantages of safe,reliable and multi-function.It can be used to beauty;Body slimming;Hair regeneration,etc.It comes to be the perferred method for skin anti-aging.
Use Methods For Size:
0.2 mm
Skin Restoration,
lmprove Alopecia,
Homecare Therapy,
Active ingredient delivery
0.5mm
Skin Whitening,
lmprove skin pigmentation,
lmprove wrinkle (eye area),
lmprove Alopecia,
Collagen Induction,
Drug delivery
1.0 mm
lmprove Wrinkle,
Collagen Induction,
lmprove Skin Scar,
Cellulite treatment,
Skin Thickness,
Face Firming,
Face Body Lifting
1.5 mm
Pregnancy lines
Thick wrinkle
Large pore
2.0mm
Dark sore concavex hole
Pimple scar
Severe decline of elasticity
Specification:
ZGTS derma roller micro needle for scars removal wrinkle removal
Packing: 50 pcs/carton
Derma Roller/Micro-needle Therapy System
Factory Direct Wholesale
Specification:0.2mm,0.25mm,0.3mm,0.5mm,1.0mm,1.5mm,2.0mm,2.5mm
Packing: 50 pcs/CTN
Size: 38cm X 38cm X 34cm
G.W: 6.5 kg (one carton)
Single one size: 16*7*7cm