Eyes Derma Roller
You are here: > Home > Products > Eyes Derma Roller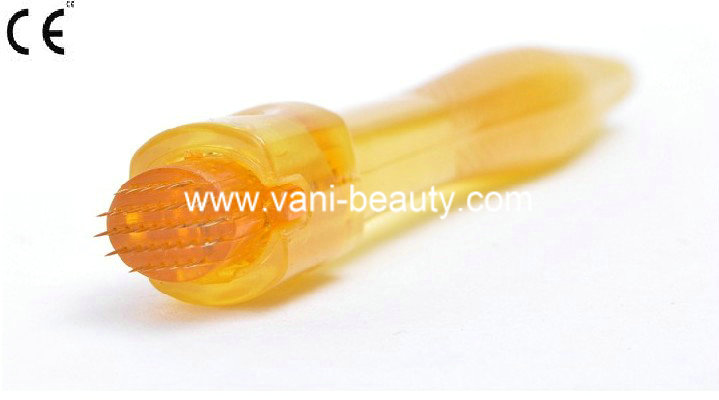 Share to:
Send Inquiry
Stamp Eyes Derma Roller
L4001
1. 35 titanium needle;
2. good care for skin treatment, dark circle treatment;
3. CE proof.
May help:
-Accelerate cell turn over
-Treatment for hair loss,thin hair
-Improve scars caused by acne/chicken pox/trauma
-Clear skin tone,
-Improve skin texture,
-Reduce skin pore,
-Whitening skin
Work theory:
Microneedle roller contains 192  medical grade stainless steel tiny needles , can be used on any part of your skin.Its application principle is by way of the stimulation the dermis layer of collagen and fibroblast proliferation, because of microneedle stimulation, may remove the wrinkle and the improvement skin texture.
Microneedle therapy is regularly rolling on the places which need to cure,accompanying with functional nutrition liquid.It can puncture more than 250,000 micro vessels on the epidermal within five minutes,
create an efficient nutrient delivery system in the epidermis and subcutaneous tissue,and then the skin will be more beautiful.
Usage:
1.Clean your face in common way.
2.disinfection of micro-needles with alcohol.
3.After about 15minutes, put micro-needles end on your face and make it roll on your face.
4.DO NOT use it in heavy press into your skin,in mild pressure!
5.clean the derma roller after use.save in cool & dry place.
6.It can be used for a longer time if you keep it well.
Notice:
1.DO NOT TOUCH BY CHILDREN
2.REMEMBER to disinfect before use
3.DO NOT use,if you have below problem:
  Purulent inflammation of the skin or acne skin;
  Severe atopic dermatitis ;
  Diabetes and severe hypertension
derma stapm
,
skin roller
,
dark circle treatment
,
eyes treatment