Titanium Needle Derma Roller
You are here: > Home > Products > Titanium Needle Derma Roller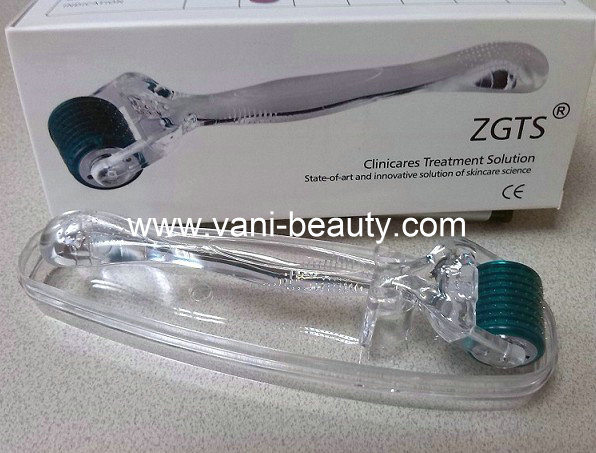 Share to:
Send Inquiry
New Titanium Microneedle 2200 Needle Roller Acne Skin Hair Loss Wrinkles Derma zgts derma roller
A0019
-Treat acne scars, surgery scars, burn scars

-Anti-aging

-Reduce appearance of pitted skin

-For body area
ZGTS Titanium Alloy Derma Roller is one of the hottest natural remedies for removing acne scars, stretch marks, reducing the appearance of wrinkles and many other treatments including hair loss. It is also used to assist in the absorption of cosmetic products, hence greatly improving their effectiveness.
The Titanium alloy needles makes ZGTS stronger and more durable  than conventional derma rollers made from stainless steel.  With proper care this derma roller will last for several months of regular use.
The ZGTS Titanium is pre-sterilised and carries the CE mark
(conforms to EU health, environmental, and safety regulations)
0.2mm,0.25mm,0.3mm
Skin Restoration, improve Alopecia, Home care Therapy, Active ingredient delivery
0.5mm
Skin Whitening, improve skin pigmentation, improve wrinkle (eye area), improve Alopecia, Collagen Induction, Drug delivery
1.0 mm
Improve Wrinkle, Collagen Induction, improve Skin Scar, Cellulite treatment, Skin Thickness, Face Firming, Face Body Lifting
1.5 mm
Pregnancy lines, Thick wrinkle, Large pore
2.0mm
Dark sore concave hole, Pimple scar, remove wrinkles, deep stretch marks
Will help to:
1.Stimulate collagen fibre growth,
2.Improve micro-circulation ,
3.Enhance skin care product's effectiveness
4.Increase effectiveness of hair loss/thin hair treatment products
5.Remove scars caused by acne/chicken pox/trauma
6.Remove Stretch Marks
How it works:
ZGTS Derma roller contains 220 medical grade Titanium needles, can be applied on any part of your skin. Its application principle is by way of stimulating the dermis layer of collagen and fibroblast proliferation.  As a result of micro-needle stimulation, it removes wrinkles and improves skin texture.
Micro-needle therapy requires regularly rolling on the skin surface which needs treatment, accompanying with functional nutrition liquid.  It can puncture more than 250,000 micro vessels on the epidermal within five minutes.
It creates an efficient nutrient delivery system in the epidermis and subcutaneous tissue.  End result is beautiful skin!!
derma roller wholesale
,
zgts wholesale
,
220 derma roller