200 Derma Roller
You are here: > Home > Products > Face Derma Roller > 200 Derma Roller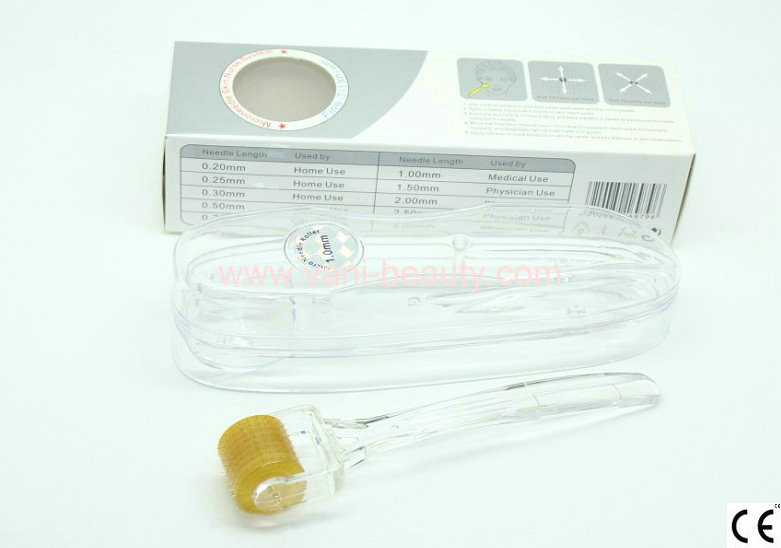 Share to:
Send Inquiry
High quality 200 disk needles titanium alloy roller
L2003
1.200 titanium needles, fine titanium

2.wrinkle removal,skin tighten

3.medical CE 93/42

4.OEM & ODM
High quality 200 disk needles titanium alloy roller
medic roller 1 time shuttle nursing means 4000 times daily beauty care
Micro Needling For Stretch Marks and Acne Scars - Until recently there were not many really helpful stretch mark or scar removal treatments out there, unless you are ready to go for expensive and unpredictable laser, microdermabrasion or chemical peel procedures. Micro needling gives the same, if not superior results with no downtime, bruising or swelling, and no foreign chemicals applied to your skin. It is the most effective and safe treatment available for home use.

The inefficiency of collagen is primarily responsible for such damages as stretch marks and scar tissue. Micro needling promotes formation of collagen and is proven to work for common types of scarring and stretch marks regardless of their size and age. Even though the complete removal of deep scars is unlikely, the improvements are quite obvious and permanent.
Derma Roller for Hair Loss and as Thinning Hair Treatment - Micro needling is a promising treatment for hair loss, thinning hair and boldness. Used by itself the roller improves blood circulation resulting in strengthening of hair roots. Used in conjunction with hair restoration products (there are plenty of them out there, but it's difficult to say which of them is more effective) the roller will increase the absorption of active ingredients.
Apply the Derma Roller over the clean and dry scalp once a day and roll in one direction (not back and forth). After you finish with the roller, one of your options would be: apply 5% Minoxidil (not more than 1ml) to balding areas and massage as directed. If you notice the scalp flaking gently rub the dead skin away with fine sea salt. Do not use more than 5 times per week.
Other applications:
Derma Roller for Cellulite – can be helpful on initial stages of cellulite only. Since cellulite deposits are located close to the skin surface, the increase in blood circulation and thickening of the skin can make it look better, but can't eliminate or lessen fat pockets. Be very careful using the roller with fat burning gels or creams. Even though this combination is more beneficial, then use of the roller by itself, it can be very irritating for your skin. Test it on a small area before using it full force.
Derma Roller for Aging Hands, Neck and Chest – since the micro needling is known to thicken the skin, the treatment is extremely beneficial for thin and aging skin on hands and neck. Can be used with vitamins, moisturizing creams, gels or lotions.