Derma Stamp
You are here: > Home > Products > Derma Stamp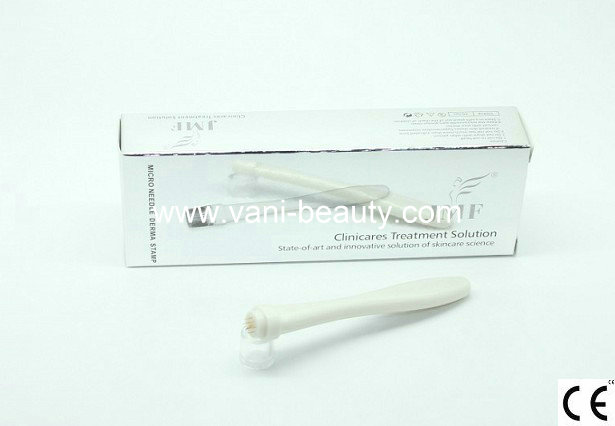 Share to:
Send Inquiry
12 titanium alloy mini detma stamp
L4002
1. 12 titanium alloy needle;
2. CE
3. can for promotion used;
12 titanium alloy mini detma stamp
Description of derma stamp:
Product Description Skin Needling or Micro-Needling is a form of Collagen Induction Therapy which is intended to smooth wrinkles, improve depressed acne scarring as well as reduce the appearance of stretch marks. It is one the newest, easiest and most effective skin treatments available and is a process which can be carried out clinically or in the home.
A small 35 needles dermastamp with titanium alloy steel needles (the size of the needle plate is similar to a fingertip). This is perfect skin needling tool to treat isolated scars and other hard to reach areas (deep  lines around lips, between eyebrows, etc).
Dermastamp is securely packed in plastic tube and needles are protected with a special cover so you can store the stamp in a cosmetic bag or anywhere away from reach of children.
Work theory:
Microneedle roller contains 35 medical grade stainless steel tiny needles , can be used on the skin of any part.Its application principle is by way of the stimulation the dermis layer of collagen and fibroblast proliferation, because of microneedle stimulation, may remove the wrinkle and the improvement skin texture.
Microneedle therapy is regularly rolling on the places which need to cure,accompanying with functional nutrition liquid.It can puncture more than 250,000 micro vessels on the epidermal within five minutes,
create an efficient nutrient delivery system in the epidermis and subcutaneous tissue,and then the skin will be more beautiful.
beauty treatment
,
face roller
,
micro needle stamp
,
derma stamp