Dermaroller Tips/Head
You are here: > Home > Products > Dermaroller Tips/Head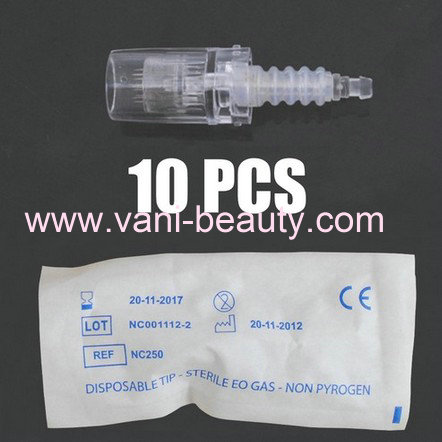 Share to:
Send Inquiry
Dermapen Tips Mesopen Disposable Tips Mirco Needle Pen Cartridge
Tips12
1. 12pins;
2. for derma pen, mesopen auto stamp use
Dermapen Tips Mesopen Disposable Tips Mirco Needle Pen Cartridge
Dermapen Tips
The Dermapen™ uses 11 micro sized 33 gauge micro needles to stimulate the dermis faster than a manual dermal roller, resulting in shorter treatment times. With an adjustable needle ( depth/length ) , the Dermapen™ needles vertically pierce the skin to enhance rejuvenation results, maintain epidermal integrity and reduce patient down time. Dermapen™ is an electronically powered micro needling device and uses a singular spring-loaded micro needle tip to puncture small holes at a rate of 1000/second.
Can I reuse the tips?
The Dermapen™ sterile micro needle tips are designed to be disposable and are for a single-use only to prevent cross-contamination and infection. The micro-needle tips cannot be properly decontaminated due to the materials used in the construction of the micro needle tip cartridge itself. We strongly recommend against re-using micro needle tip cartridges, as patient safety is of paramount importance. The Dermapen's design permits the user to change the needle tip cartridge after each treatment, at a very low consumable cost, with each Dermapen treatment. A low consumable cost, combined with little to no downtime for the patient, makes Dermapen an ideal solution for any medical spa or clinic.
micro needle tips
,
auto stamp tips
,
dermapen tips