600 Derma Roller
You are here: > Home > Products > Body Meso Roller > 600 Derma Roller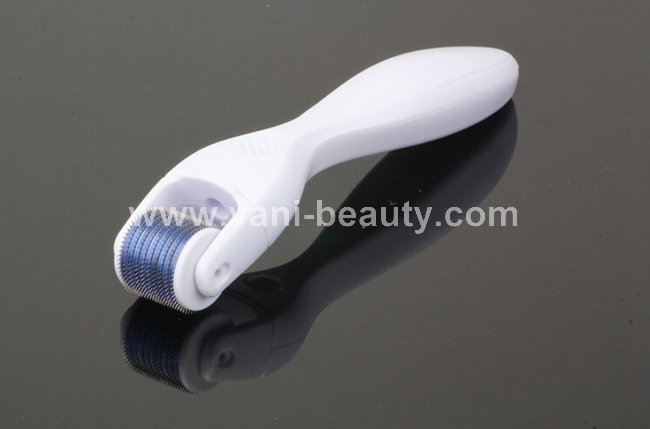 Share to:
Send Inquiry
Micro-needle Roller Therapy 600 Needles with CE
DRS600
Needle No.: 600 Pin



Material: Titanium/SS



Sterilized method: Ultraviolet Disinfection



Packing: Transparent case + medical pouch + Paper box
Micro-needle Roller Therapy 600 Needles with CE
Introduction
The Derma Roller is an incredible device which naturally increases the levels of collagen and elastin in your skin. The Derma Roller is becoming an increasingly common cosmetic procedure as treatment for many skin conditions.
The Derma Roller's benefits can be reaped for years to come as far as anti-aging is concerned. As well as increasing the absorption and efficacy of your anti-aging skin care products, with continued use the stimulation of cells will also result in a faster renewal cycle of the epidermis and stimulate new collagen production. This will increase the thickness of the uppermost layer of the epidermis, improve the skin's integrity and leave it looking plumper and younger with a healthy glow.
Advantages
1. Minimal risk and painless
2. No side effects and fast recovery
3. No bruising or swelling
4. Highly effective treatment for surgery scars, burn scars, acne scars, chicken pox scars, pitting of the skin, large pores and much more
5. Can be used by yourself anytime at your personal convenience.
6. Price effective compared to expensive cosmetic laser treatments.
7. FDA-approved technology, based mostly on hundreds of years of acupuncture technology.
8. Can be used on all areas of the face, neck, body and scalp.
9. Similar results to laser treatment, chemical peels and dermabrasion at a fraction of the cost.
10. Remove loose skin, lines and wrinkles on the face

Needle Length
What are the functions of different needle length?
(0.2 -0.3 mm) are for increased penetration of skin care products into the skin and overall improvement of skin color and texture. The recommended treatment interval is 3 - 5 days
(0.5 mm) are for wrinkles, anti-aging, light acne scarring, chicken pox scars, acne scars, also recommended for thinning hair. The recommended treatment interval is 1 weeks.
(1.0 mm) are for deep stretch marks, cellulite and deep scarring. The recommended treatment interval is 1~2 weeks.
(1.5 mm) are for more severe cases, deep scars and wrinkles, rejuvenation of ruined skin. The recommended treatment interval is 1~2 weeks.
(2.0mm--3.0mm) are for severe cases of scarring and wrinkles. The recommended treatment interval is 2 weeks.

Exchangeable Roller
The device is compatible with both exchangeable roller head (600 needle) and exchangeable roller head (1200 needle).
What are the differences in Derma Roller models?
Principally, there are none. But according to different needle shape and roller structure, different Derma Roller has subtle differences. What's more, both models (medical and home care) also differ in needle size. While the medical Derma Roller has longer needles – to induce collagen &reduce scars in deeper skin layers, the needles of the Home Care Derma Roller are very short, such as 0.2mm, 0.25mm, 0.3mm and 0.5mm.
beauty skin 600 roller
,
600 derma roller
,
Micro needle roller therapy