540 Derma Roller
You are here: > Home > Products > Face Derma Roller > 540 Derma Roller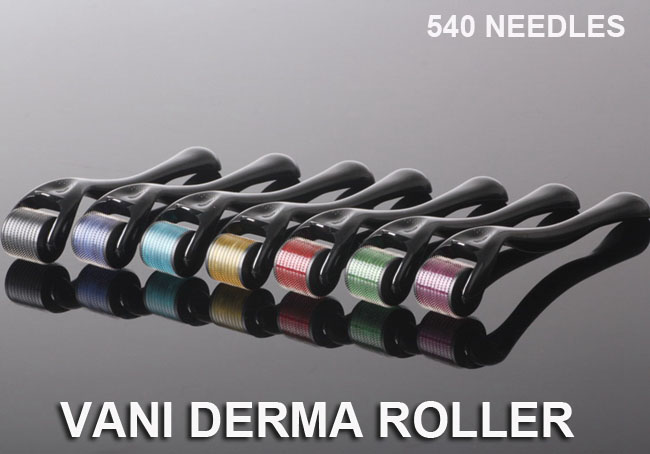 Share to:
Send Inquiry
Factory Sale 540 Needles Micro Derma Needle Roller System
L5000
Size: 0.2mm, 0.25mm, 0.3mm, 0.5mm, 1.0mm, 1.5mm, 2.0mm
1. 540 titanium needles;
2. ABS handle;
3. CE certifocate;
4. Sterilized method: Ultraviolet Disinfection.
Factory Sale 540 Needles Micro Derma Needle Roller System
The 540 needles Skin Roller dramatically will increase the effectiveness of your hair and pores and skin products by increasing absorption of your products from the usual 4% to as a much as 87% of the product being absorbed deep in your skin. Utilizing the 540 Needles Skin Roller promotes production of missing collagen, resulting in pores and skin rejuvenation, great skin elasticity, and tightening and thickening of the skin. Usable on the face and body, the 540 Needles Skin Roller may also help cut back and soften pimples or surgical scars diminish the appearance of cellulite and stretch marks, scale back large heavy pitted skin, and assist in reversing the results of sun damage. When used on the head (scalp), the Pores and Skin Roller also stimulates the hair to maintain its thickness and help with thinning and balding hair areas. Dramatic results can be seen with one week.
1. Needle Size: For starters, you DO NOT need a variety of rollers for scars, wrinkles and stretch marks, but specific needle sizes perform better for different skin conditions.  User should AVOID using a needle length of 1.5 mm or above on the face. These rollers are designed for use on the body. ONLY trained professionals can use them on your face. If not properly used, they can cause PERMANENT skin damage.
2. Needle Quality: There are many outdated dermarollers on the market. The needles are made of cheap surgical steel. They can bend, rust and get dull easily. This can seriously harm your skin and produce painful treatment. The best dermarollers are made with titanium needles. Titanium needles are the strongest and ultra sharp.
3. Needle Thickness: Some dermarollers are made with thick needles. They are strictly intended for treating the areas on your body. You must avoid using these rollers on your face. Treating your face with thick needles can result in painful treatment and side effects. The best derma roller for the face should be made of fine needles.
4. Number of Needles: Many older rollers have less than 200 needles, and they are widely spaced apart. This produces less coverage and requires more rolling to treat the area thoroughly. As a result, the outdated rollers produce painful treatments and stimulate fewer collagen regrowth.  It is ideal to look for the latest roller with 540 needles.
5. Eye Areas: Outdated derma rollers weren't design to treat around the eye areas. They can damage the sensitive areas around the eyes. The latest dermaroller comes with a unique roller head that is strictly designed for the surrounding eye areas.
6. Detachable Roller Head: Outdated dermarollers were designed with only 1 needle size. Different treatments require different needle sizes to produce optimum result. The best dermaroller should come with detachable roller heads for various needle sizes.
7. Protective Cover: A lot of dermarollers don't come with protective covers. Many users accidentally bent the needles and damage their skin. Infections are usually reported with damaged needles. 
derma roller system
,
needle cartridge
,
derma roller 540
,
540 microneedling