Eyes Derma Roller
You are here: > Home > Products > Eyes Derma Roller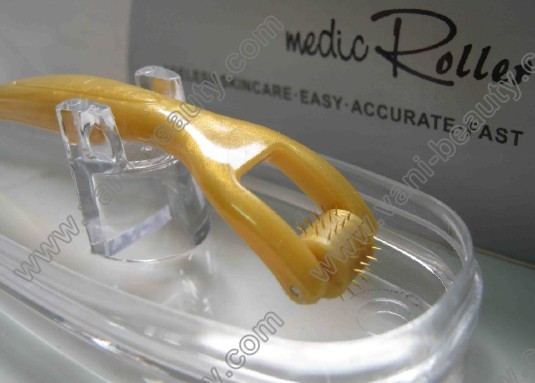 Share to:
Send Inquiry
Derma Eyes Roller Syesterm
A0008
Size: 0.2mm, 0.3mm, 0.5mm, 1.0mm, 1.5mm, 2.0mm
| | |
| --- | --- |
| | Anti-Hair Removal, Anti-Puffiness, Blood Vessels Removal, Breast Enhancers, Cellulite Reduction, Dark Circles, Moisturizer, Pigment Removal, Skin Rejuvenation, Weight Loss, Whitening, Wrinkle Remover |
There are THREE major advantages for using MTS Roller:
MTS Rollers are revolutionary. They do the same job that lasers and other ablative methods by increasing the production of collagen with minimal damage to the protective layer of the skin.

MTS Rollers are effective. In fact, just as effective as lasers, IPL, Thermage and other 'machine-based' treatments, but at a fraction of the cost to practitioners and patients.

MTS Rollers are safe. "Non-surgical and non-ablative" means more 'forgiving' and skin-friendly treatments. Patients experience little or no pain, downtime, and risk for complications.
Fast Recuperative Power
The gentle stimulus provided by the MTS Roller is far more "skin friendly" and thus far more effective than many other more invasive and more expensive skin treatments. MTS Roller leaves the entire epidermal barrier fully intact; micro-channels created by 200 precision surgical steel needles seal within hours after application: long enough for new collagen-structures to form within the lower layers of the skin and short enough to allow the patient to resume normal schedules quickly. MTS Rollers eliminate all common negative side effects and risks associated with chemical peeling, dermabrasion, and laser-resurfacing. The skin is thicker and ready sooner for additional treatment. Personal MTS models (CR2, CR3) are virtually painless; clinical models (CR5, CR10, CR20) should be used with a topical anesthetic.
skin care
,
eyes roller
,
derma eyes roller
,
derma roller