Derma Pen Needle Cartridge
You are here: > Home > Products > Derma Pen Needle Cartridge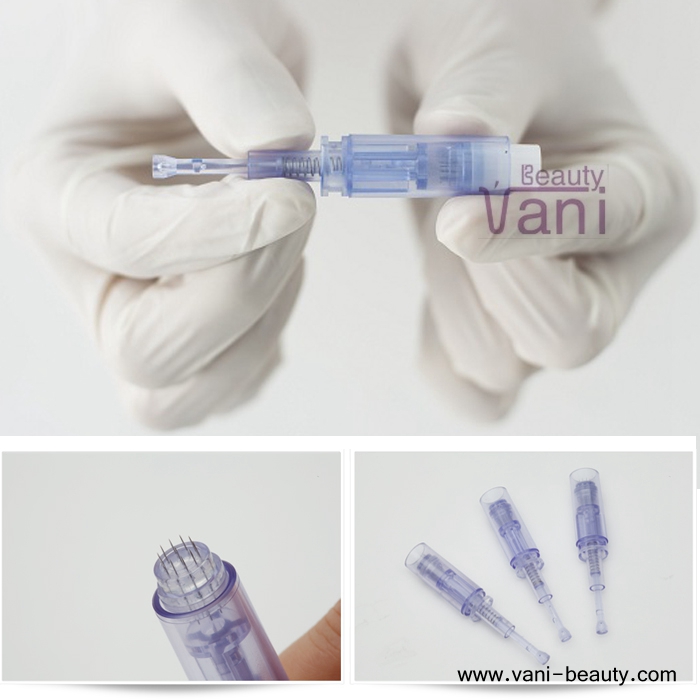 Share to:
Send Inquiry
Steriled 11 Aiguilles Derma Pen Needle Cartridge Dr. Dermic Goldpen Needle Tips with Vaccum Packing
NC011
Model NO.: 11pin Needle Derma Pen

Theory: Microneedle Therapy

Portable: Portable

Feature: Anti-Hair Removal

Needle: 11 Pins Needle

Brand Name: OEM

Transport Package: Carton Box
Model NO.: 11pin Needle Derma Pen
Theory: Microneedle Therapy
Portable: Portable
Feature: Anti-Hair Removal
Needle: 11 Pins Needle
Brand Name: OEM
Transport Package: Carton Box
Origin: Guangzhou Guuangdong China
Type: Pigment Treatment Instrument
Application: Salon, Home
Gross Weight/Package: 1.0 ( Kg )
Color: Blue
Certification: Ce
Trademark: Dr. pen
Specification: 22.0 * 10.0 * 10.0 ( cm )
HS Code: 90191010
The newly redesigned Dermica goldpen disposable tips will be the first micro-needling tip to come equipped with new Technology is the algorithmically calculated, equidistant spacing and positioning of the individual micro-needles from one another. The redesigned tip now comes with a total of 11 micro-needles, nine around the perimeter of the tip and the remaining three in the center. Precisely aligning the micro-needles drastically diminishes any discomfort that may be associated with micro-needling. The new tip also features a scalloped edge, which minimizes surface tension and thus shortening the amount of time needed to perform the needling session. The scalloped grooves on the needle tip face reduce suction within the tip housing decreasing epidermal damage even further. In addition to these new advancements, the updated tips incorporate two opposing vents that highly restrict the possibility of backflow of bodily fluids into the body of the handpiece, eliminating the possibility of cross-contamination.

Description
 
The disposable needles-cartridges
eliminates the risk of contamination.
there is no need to autoclave parts like
in traditional devices.smooth adjustment of needle length

32G finest needle
11 cartridges
Fits EraseCIT AMD and Dermapen I and II, dermicia pen, goldpen.. etc
We help our customers save money by providing consumable products such as the Noven Microneedle Tip at a REASONABLE price.
These needle cartridges were produced specifically for the Dermapen I and II and the EraseCIT AMD. These tips WILL NOT fit the Dermapen III 3MD .
Each disposable needle cartridge has 11 microneedles and is sealed in a sterile package.
PMU needle
,
needle tips
,
11pin needle cartridge
,
needle cartridge
,
Dr. Dermic
,
skin care
,
meso gun
,
mesotherapy equipment
,
Needle-free