Derma Pen
You are here: > Home > Products > Derma Pen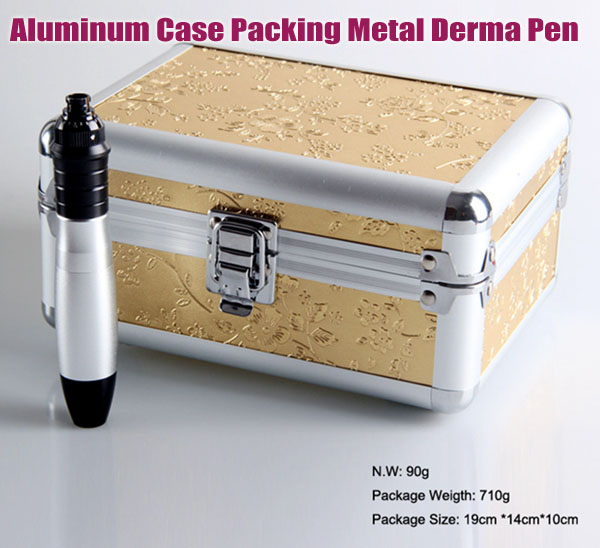 Share to:
Send Inquiry
Facial Rejuvenation Skin Derma Pen Electricial Mesopen for Wholesale
AU003
1. 1/9/12/36 needles, nano tip disposable needle cartridge

2. 5 level vibration speed contrlled

3. Needle lehgth: from 0.25mm to 2.0mm adjustable

4. Needle diameter: 0.25mm

5. Adapter :5v-300MA

6. Vibrating frecency:6000-9000r/m

7. Digital Motor/controler in power line,

8. Two pieces fee needle tips


Electric Microneedle Mesotherapy (Auto Microneedle Therapy System AMTS) is much more safe and excellent effect on piercing into skin by numerous needles automatically. So superior effect on collagen and elastin rejuvenation, direct EGF supply in deeper layer of skin without a epidermal damage. Its Vibrating function excellently increases the effectiveness of treatment by increasing absorption of products, on the other hand reduces pain & discomfort.

Features of  derma pen:
-High Speed Penetration
-Adjustable needle length: From 0.25mm to 2.0mm
-Minimal risks
-Short healing time
-Almost all skin types can be treated
-Easier operation for narrow and curved area
-Thickens the dermis without damaging or removing epidermis


Improve efficiency:
-Wrinkle removal/acne removal/improve scar, rejuvenation
-For the narrow focus of the site can be treated(glabella, depth, wrinkle, scar)
-Shrink pores
-Treatment of stria gravidarum
-Lifting
-Improve wrinkle and fine lines
-Treatment of acne scars and healing wounds


How to use
1) Put a needle into the handpiece.
2) Put a guide into the handpiece.
3) Clean the skin to be treated.
4) Spread drugs and/or cosmetics on the skin.
5) Turn on the switch to decide the operating mode (low or high speed).
6) Once the handpiece equipped with a needle and guide stimulates the skin, drugs and/pr cosmetics are penetrated/absorbed through the stimulated area.
7) Turn off the switch after use, and then, detach the guide and the needle in the written order.
skin needle pen
,
High-end micro needle pen
,
metal derma pen