Vibration LED Derma Roller
You are here: > Home > Products > Vibration LED Derma Roller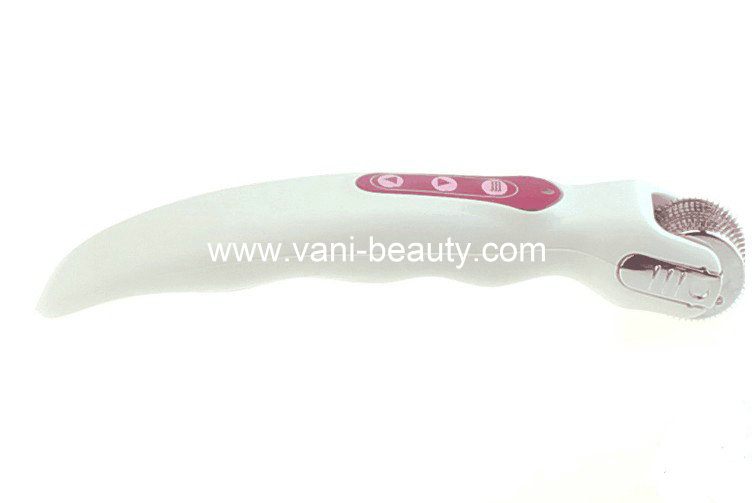 Share to:
Send Inquiry
Vibration Photon Led Derma Roller
D0003
Anti-Hair Removal, Anti-Puffiness, Blood Vessels Removal, Breast Enhancers, Cellulite Reduction, Dark Circles, Moisturizer, Pigment Removal, Skin Rejuvenation, Weight Loss, Whitening, Wrinkle Remover
Size: 0.2mm, 0.25mm, 0.3mm, 0.5mm, 1.0mm, 1.5mm, 2.0mm
540 stainless steel needle


Vibration Photon Led Derma Roller
Basic Operation of Instrument
1. Insert two AAA batteries, the "positive and negative" pole should accordance to the instruction of handle.
2. Select the desired roller head and assemble it into the handle, then remove the cover.
3. Adjust the electric energy bionic intensity.
Press 3 to adjust the Bionic of biological electric energy intensity, 5 models of intensity will be from small to large which can be adjusted to suitable models according to guests' requirements; According to the clinic trial, the models from 1 to 3 files that are more suitable for facial care, body care and can be used four or five files, the actual situation to be determined upon experience. Press button 4, Bionic electric energy by weak degree of regulation.
Bio-electric energy indicator corresponding to the light color and intensity:
LED: light green light for the bio-electric energy No. 1 model; deep green of Nio.2 model; light red for No.3 model; red No. 4 model; Deep red No.5 model.
4. Starts vibrating massage button.
Press 2 to start vibrating massage function, were divided into three models, vibration massage strength key to cycle key, they are 1,2,3 and stop, clinical outcome: Intensity 1 is more appropriate facial care, body care file can be used to intensity 2 and 3 , the specific circumstances of the actual needs of each guest's skin under the circumstances.
5.The optical output of the start of treatment, or bio-electric energy vibration massage function are beginning work no matter start which function of both of them.
Note: Start biological energy and vibration massage feature, you must first start after the start of biological energy vibration massage function.