192 Derma Roller
You are here: > Home > Products > Face Derma Roller > 192 Derma Roller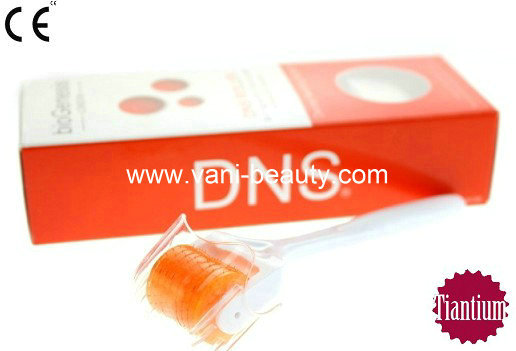 Share to:
Send Inquiry
DNS MT Roller Derma Expert Cellulite Pore Refine Ance Anti Aging
D0006
1. CE certificate;
2. 192 medical titanium needle; high plastics handle;
Six superior advantages;

Solid Plate Structure (SPS)
Many budgetary rollers are manufactured with hollow compartments, serum and leftovers from treatment can become trapped and eventually grow into lethal bacteria which can lead to negative treatment effects. Other budget rollers may also carry SPS, but a lot of these options do not go through proper QC and residuals (such as glue and disinfectant chemical) will remain on the surface of the roller which may dissolve into our treatment serum and cause serious skin disorder.

Complete Disinfection
Components and manufacturing equipments of the bioGenesis DNS Skin Roller goes through many level of sterilization before being packaged (EQ Gas, Gamma and Alcohol 90%+), this ensures that the rollers are absolutely germs free when delivered to our clients.

Air Tight Seal
DNS Skin Rollers are packaged in air tight seals to ensure that no bacteria or germs can vaster on the appliance during shipment or storage. Some skin rollers are packaged very poorly and are not sealed properly to prevent contamination. So even if they were sterilized before packaging, they cannot be used without proper disinfection.

Ergonomic Design
The design of the DNS Skin Roller ensures that a firm grip can be maintained by either yourself or your beautician during treatment. This will avoid gliding areas which are not suitable for treatments.

Needle Protection
The Roller head is protected by a specially made plastic shell which ensures that the needles are protected from damage during shipment and storage. The protection is particularly apparent when compared to rollers that are loosely stored in plastic cases.

Enhanced Needle Arrangements
The enhanced needle arrangement on the roller is design to ensure maximum coverage of the treatment area. This arrangement also follows the standard imposed by FDA. Do not fall for budgetary rollers that have unorthodox arrangements that claims to have greater coverage, they don't.