192 Derma Roller
You are here: > Home > Products > Face Derma Roller > 192 Derma Roller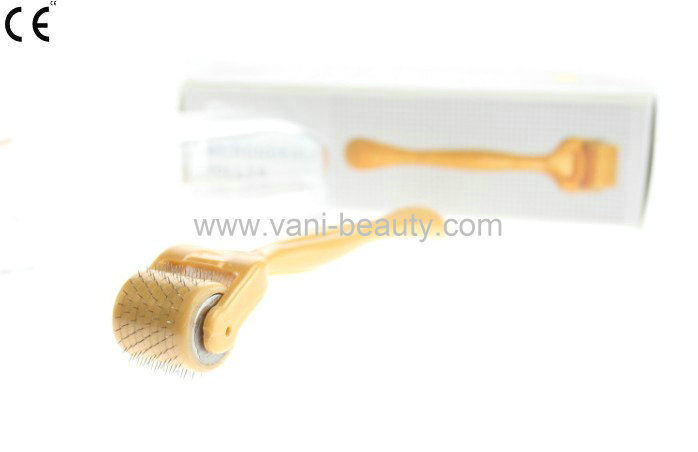 Share to:
Send Inquiry
steel needle MT derma roller
M0006
0.2mm, 0.5mm, 1.0mm, 1.5mm,2.0mm

acne removal

anti-aging,wrinkle removal, cellulite dispelling

derma roller
steel needle MT derma roller
Parameters: 
-needles: 192 needles 
-Roller color : red/green/blue/yellow
-Handle color : black / transparent 
-Needle material : titanium needle
-Handle/Roller Material : PC
-size: 0.2MM 0.25MM 0.3MM 0.5MM 0.75MM 1.0MM 1.5MM 2.0MM 2.5MM 3.0MM
-High sealing sterilization packaging
-package: carton box
-package size for 100pcs: 38x31x29cm 
-weight:10KG
-we support OEM service
Derma roller therapy:
The micro needle therapy to stimulate skin with minimally invasive, using the micro needle to create a large number of micro-channels in short period of time, and form a high-quality delivery system among the epidermis, dermis and subcutaneous tissue, so that the active ingredient, nutrition products and ingredients quickly absorbed by the skin, which greatly enhance the efficacy of the product.
Used by:
0.20mm--Home Use      1.00mm--Medical Use
0.25mm--Home Use      1.50mm--Physician Use
0.30mm--Home Use       2.00mm--Physician Use
0.50mm--Clinical Use     2.50mm--Physician Use
0.75mm--Clinical Use     3.00mm--Physician Use
Applications:
1. Scar removal including acne scar removal or treatment.
2. Stretch mark removal
3. Anti aging.
4. Anti wrinkle
5. Cellulite treatment/ cellulite reduction or removal.
6. Hair loss treatment/ hair restoration
7. Hyper pigmentation treatment.
Treatment time suggestion:
6-8 sessions recommended, with 4-6 weeks intervals.
Advantages:
-Visual and noticeable improvement in a few days from the first treatment 
-Cost effective - there's no investment needed unlike equipments such as laser. 
-Short healing time 
-No permanent damage or injury 
-No bruising, infection, discoloration or other complications 
-Extremely high absorption of any active ingredients 
-Almost all skin types can be treated 
-Thickens the dermis without damaging or removing epidermis