540 Derma Roller
You are here: > Home > Products > Face Derma Roller > 540 Derma Roller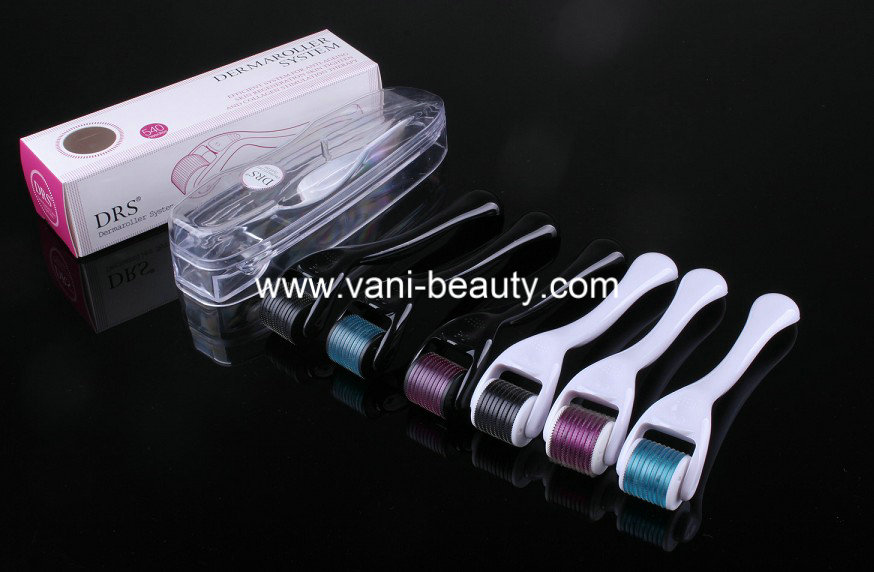 Share to:
Send Inquiry
Micro Needle Skin Roller (540 Needles) 1.0 mm for Derma Scars,Cellulite
DRS540
1.micro system derma roller

2.function:whitening, skin lifting

3.head color: three color for roller, white and black handle;

4.Needle Size:10 sizes

5.CE approval
Features:
The Titanium Roller is one of the strongest derma  rollers you can buy. The needles are made from titanium alloy -  titanium is stronger and more durable than stainless steel and with proper care  this derma roller will last for several months of regular  use.
Don't  waste your money on cheap plastic derma rollers - they are designed for single  use. The  Titanium Roller is built to last. 
Precautions
Never share a derma roller with anyone else  for hygiene reasons .

Not recommended  for use on irritated or infected skin, active acne, rosacea, eczema, moles etc.  

Be extra  careful when rolling around the eyes; don't go any higher than your cheekbones.  Don't use a derma roller on your eyelids as the skin is too thin. 

Keep the derma  roller away from possible sources of contamination. Store it in its case when  not in use.

Never use on  animals or children
Rolling  Instructions
Wash your hands  and the area to be treated thoroughly.

 

Wipe the skin  and your hands with anti-bacterial gel (you can skip this step if you are using  needle lengths of less than 0.5mm).

If you are  using numbing cream, follow the manufacturer's instructions for use. Always 

remove the cream completely before  rolling (you can use cotton pads soaked with alcohol to do this).

Rinse the derma  roller under hot running water for a few seconds.

Apply skin care  product, if using.

Whilst pulling  the skin taut with your free hand, roll forwards and backwards over the area to  be treated. Roll 8-10 times in each direction: vertically, horizontally and  diagonally (forwards and back equals two rolls).

Apply  sufficient pressure for the needles to penetrate the skin to their full length.  Lift the derma roller slightly after each roll - this will ensure that the  needles create new micro-channels in the skin rather than going over the same  ones repeatedly.