1080 Derma Roller
You are here: > Home > Products > Body Meso Roller > 1080 Derma Roller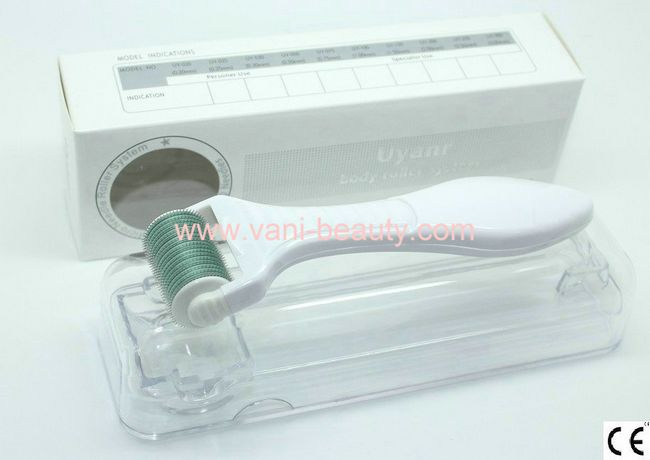 Share to:
Send Inquiry
Medik8 Derma Roller Skin Needling for Body Skin Treatment
C0005G
1. 1080 medical stainless steel needle;
2. CE;
3. ODM & ODM is welcome;
Medik8 Derma Roller Skin Needling for Body Skin Treatment
Derma Roller Skin Needling devices are the latest skin rejuvenation techniques to help restore a healthy, flawless and youthful appearance to the skin.
Derma Roller Skin needling works through two modes of action:
The needles penetrate through the skin to provide micro-channels to maximise the absorption of the topically applied skincare product
The micro-channels induce independent stimulation of new collagen and elastin synthesis, resulting from the skin's natural healing response. Ultimately, skin strength, structure and resilience
Similar results to Laser resurfacing, Fraxel and chemical peels with a broad range of advantages and benefits:
Suitable for all skin types
Does not induce skin sensitivity to UV light
Personal models are painless and can be used at home.
Does not cause skin damage (no ablation/removal of the epidermis)
Can be used on the face, neck, décolleté and any other parts of the body requiring treatment
Can be used on thin skin formerly treated with chemical peels and laser
Does not pose a risk of permanent skin discolouration
Enhances Iontophoresis and Sonophoresis treatments
Cost effective treatment alternative
Short or no healing time
Easy and safe to use
The only Derma Roller Skin Needling device comprised of precision engineered titanium needles that deliver the most pain-free treatment experience from the very first use to the very last.
Both the Titanium Dermaroller and Titanium Dermastamp can be re-used for up to six months making it an extremely cost effective alternative to many cosmetic treatments.