1200 Derma Roller
You are here: > Home > Products > Body Meso Roller > 1200 Derma Roller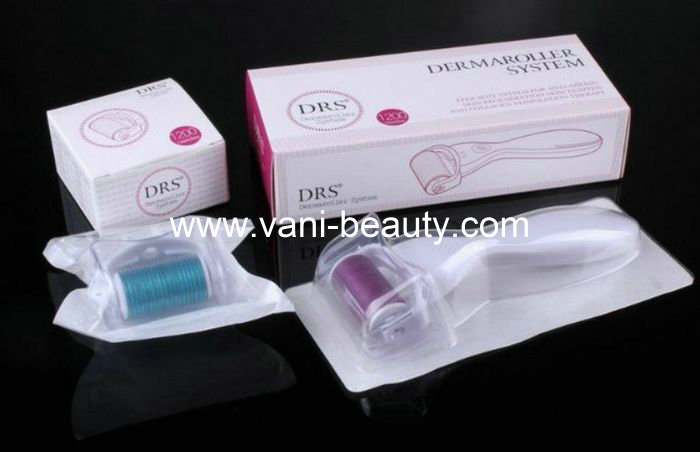 Share to:
Send Inquiry
1200 Pins Micro Needles With Changeable Head Body Skin Roller
DRS1200
1200 Pins Micro Needles With Changeable Head Body Skin Roller
As you roll over your skin, it creates pin point punctures into the dermis – the majority of which are simply pushing your pores open temporarily. This is perceived by the body as damage, which stimulates the release of growth factors that trigger the production of collagen and elastin. The human body naturally reacts to any injury by initiating the healing process, but usually it will only heal as far as it must to keep you healthy – which is different to healing to a cosmetic level. By persistently triggering the healing process, you encourage your body to continue healing until you are satisfied with the results.  By opening the skin in this way you not only dramatically increase the penetration of any topical product, increasing its efficacy, but you also create miniature perforations that stimulate the skin's healing mechanisms, increasing production of many important factors for a healthy skin.
How fast does the Derma Roller get results?
The speed at which you will get results depends on what you are treating and how extensively your body needs to remodel the affected area. This process of skin remodelling can go on for months after each Derma Roller treatment, but noticeable results can be seen within a week! Your skin naturally renews itself every 40 days, so with a little stimulation changes can be dramatic and fast.
Advantages over other skin therapies:
Suitable for all skin types

Painless and can be used at home (only relevant to Personal Models)

Does not cause skin damage (no ablation/removal of the epidermis)

Does not induce skin sensitivity to UV light

Does not pose a risk of permanent skin discolouration

Can be used on thin skin formerly treated with chemical peels and laser

Can be used on the face, neck, décolleté and any other parts of the body requiring treatment

Cost effective treatment alternative

Enhances Iontophoresis and Sonophoresis treatments

Short or no healing time

Easy and safe to use