1080 Derma Roller
You are here: > Home > Products > Body Meso Roller > 1080 Derma Roller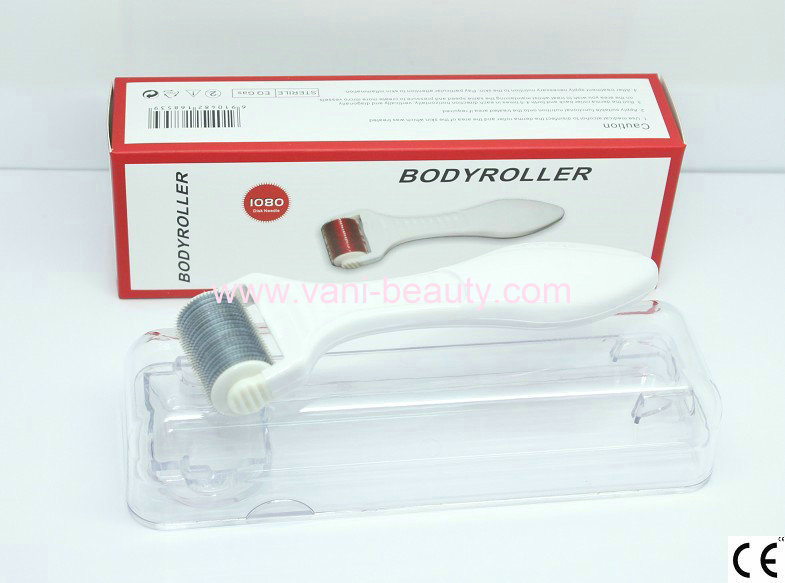 Share to:
Send Inquiry
Titanium 1080 Needle Micro-Needling BIO Skin Roller
C0005B
1. 1080 medical stainless steel needle;
2. ten size for choose: 0.2mm, 0.25mm, 0.3mm, 0.5mm, 0.75mm, 1.0mm, 1.5mm, 2.0mm, 2.5mm, 3.0mm
3. 93/42 CE Certificate
4. CE
1080 Needle Micro-Needling BIO Skin Roller
This new CE approved skin care device that increases absorption of active ingredients by 400%. The Bio-Roller stimulation improves skin elasticity and texture by promoting collagen formation, and regenerates skin without damaging epidermis. This powerful collagen boosting facial is a must for mature, dull or tired skin.
Bio-Roller is ideal for non-surgical and non-ablative treatment of various skin conditions such as aging (wrinkles, stretching), scarring (acne, surgical) and hyperpigmentation. Clinical studies have shown Bio Roller Micro Needle Therapy System to be more effective than ablative treatments like laser resurfacing, dermabrasion, and chemical peel and just as effective as non-ablative treatments like CO2 laser and Fraxel in stimulating collagen and elastin production to thicken the skin thereby erasing wrinkles and smoothing scars.
The gentle stimulus provided by the Bio Roller is skin-friendly and thus far more effective than many other invasive and more expensive skin treatments. Bio Roller leaves the entire epidermal barrier fully intact; micro-channels created by 300 precision surgical steel needles are long enough for new collagen structures to form within the lower layers of the skin and short enough to allow the patient to resume normal schedules quickly. Bio Rollers eliminate all common negative side effects and risks associated with chemical peeling, dermabrasion and laser-resurfacing. The skin is thicker and ready sooner for additional treatment.
Custom cleansing will be performed followed by gentle enzyme exfoliation, followed by soothing massage and Bio-Roller stimulation with instant lift ampoule. Cooling thermal rubber mask will be applied to push ampoule concentrate deeper into the skin, followed by soothing strawberry mask. Custom care cream and sun block will finish the procedure. Result of this powerful treatment is more youthful, radiant and hydrated skin.