Vibration LED Derma Roller
You are here: > Home > Products > Vibration LED Derma Roller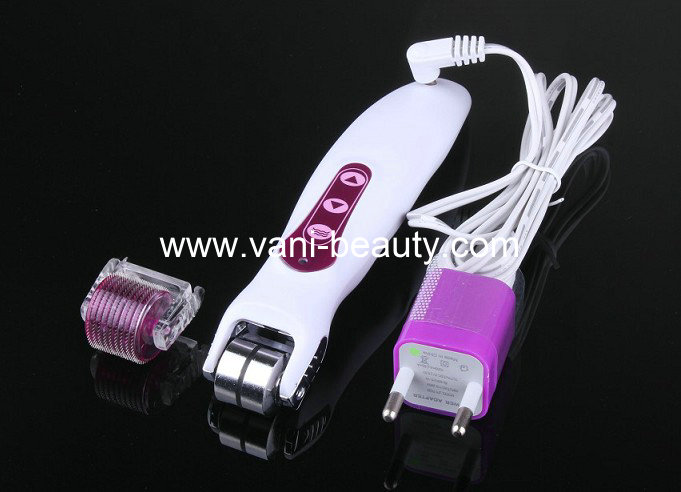 Share to:
Send Inquiry
New DNS BIO Electric Ion Nano Repair Microneedles BIO Derma Roller Cooling Roller
D0008
Features:
1. 540PINS with 0.2mm,0.25mm,0.3mm,0.5mm,1.0mm, 1.5mm,2.0mm
2.4 colors light : red 、blue 、yellow、green
3. the heads can be Replace with different size heads
4. Galvanic
5. vibrating
6.Electricity source:battery
7. Cooling head
New DNS BIO Electric Ion Nano Repair Microneedles BIO Derma Roller Cooling Roller
Micro-needle therapy or Derma roller is used for skin micro roller "minimally invasive" stimulation, in a short time to create a large number of micro-channels in the epidermis and dermis, subcutaneous tissue formed between a superior delivery system, the activity of the product ingredients and nutrients to be quickly absorbed through the skin, greatly enhance the product's efficacy.
"540pins DNS REVO" compared with the ordinary micro-needle, "DNS REVO" has a quick, less invasive, healing time is short, and according to skin surface, middle, or deep skin and hypodermic layer ,then processing selective care; and realize painless treatments.
Extra Needles per Head
The Skin Roller has 540 needles per roller head, in comparison with the standard roller that has less than 200 needles per head. With extra needles, you will have greater penetration in much less time. Needle shape leads to less discomfort.
The diamond shape of the 540 Needles Skin Roller leads to less pain compared to the standard round shaped needle of other skin rollers. This is because the thickness of the spherical-shaped needle is twice as large as the diamond shape needle of the 540 Needles Skin Roller.
At BIO Genesis London our skin scientists ventures for quality and innovation. Our continual efforts to seek for the best have guided us to the proud introduction of the new and sensational 'REVO'. This evolutionary device will set new standards for all derma needling treatments and provide users with results never achievable before.Galvanic implementation:Galvanic are small pulses of electric currents that simulate our body's bio current. It has the incredible ability to enhance absorption of positive nutrients. The current also stimulates our skin cell to release exponential collagen doses for self healing and rejuvenation.Through extensive R&D our skin scientists have succeeded in combining the positive effects of Galvanic current with skin needling treatment to form the basis of the new ' REVO'. Laboratory tests have demonstrated astonishing results with synergy that is far beyond what traditional beautician tools can achieve.
Extra Needles Repair Metal Head
This cool smooth head is used after 540 head treatment to repair the skin before using essence to make the effect much amazing!
Photon implementation:
The 'REVO' is equipped with 4 independent photon emitters capable of producing rays between the ranges of 470nm to 640nm. This added feature provides more option for the treatment and help secure the incredible and long lasting effects.
Red photon increases the oxygen level of our skin and enhances cell activities. It can effectively treat visible symptoms associated with aging,
Blue photon is extremely effective at calming the skin after vigorous needling treatment. It can effectively treat visible symptoms associated with aging.
Yellow photon enhances the movement of our lymphatic system and improves the texture of our skin.
Green photon is particularly effective at detoxing our skin and maintaining a healthy balance.

SENSE implementation:
SENSE is a vibrating feature which we have fine tune to optimal. The subtle vibrating pattern intensifies absorption and enhances the penetration of nutrient to our lower derma where it it most needed.
cooling microneedle
,
microneedle
,
vibration derma roller
,
BIO roller