3 in 1 Derma Roller Kit
You are here: > Home > Products > Body Meso Roller > 3 in 1 Derma Roller Kit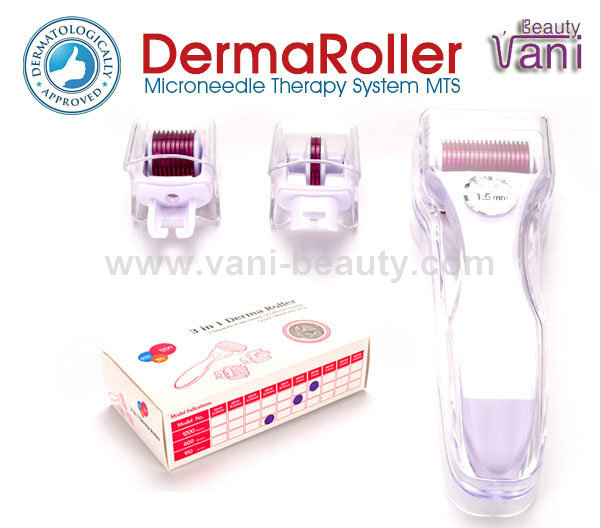 Share to:
Send Inquiry
Magic 3 in 1 Micro Needling Roller Kit for Collagen Induction Therapy
DRST-01
Needles:

180/600/1200


Material:

Titanium, medical stainless steel


Packing:

Transparent case + medical pouch + paper box


Sterilized method:

Ultraviolet Disinfection

Magic 3 in 1 Micro Needling Roller Kit for Collagen Induction Therapy
Eyes + Face + Body Roller, three in one kit!
One kit derma roller for all skin problem!
180+600+1200 needlle roller

THE PRINCIPLE-COLLAGEN INDUCTION THERAPY

The medical dermaroller needles are 0.5-1.5 mm in length. During treatment, the needles pierce the stratum corneum and create microconduits (holes) without damaging the epidermis. It has been shown that rolling with a dermaroller (192 needles, 200 µm length and 70 µm diameter) over an area for 15 times will result in approximately 250 holes/ cm2 . Microneedling leads to the release of growth factors which stimulate the formation of new collagen (natural collagen) and elastin in the papillary dermis. In addition, new capillaries are formed-this neovascularisation and neocollagenesis following treatment leads to reduction of scars. The procedure is therefore aptly called "percutaneous collagen induction therapy" and has also been used in the treatment of photoageing.

Microneedling is a simple office-based procedure. The area to be treated is anesthetized with topical anesthesia for 45 minutes to one hour. After preparation of the area, rolling is done 15-20 times in horizontal, vertical, and oblique directions; Petechiae or pin-point bleeding which occurs is easily controlled. After treatment, the area is wetted with saline pads. The entire procedure lasts for 15 to 20 minutes, depending on the extent of the area to be treated.

A minimum of six weeks is recommended between two treatments as it takes that long for new natural collagen to form. Three to four treatments may be needed for moderate acne scars.

1, Derma roller is used for one of the following skin problems:
1) Scar Removal – including acne scar removal / treatment
2) Stretch Mark Removal / Treatment
3) Anti Ageing,Anti Wrinkle
4) Cellulite Treatment / Cellulite Reduction or Removal
5) Hair Loss Treatment / Hair Restoration
6) Hyper Pigmentation Treatment
2, When using different kinds of needle?
You should choose the roller which will be suitable according to its purpose of treatment before operation.

Different use examples:
1) For the improvement of the skin color:0.2,0.5
(used for improvement of the whole skin color,for the solution of partial pigmentation problem,etc)
2) For the skin regeneration:1.0 1.5
(used for solutions of thin epidermis,thin wrinkle,decline of elasticity,etc)
3) For the antii-ageing and rejuvenation of ruined skin:1.5 2.0
(used for solutions of thick wrinkle,large pore,injury scar,pimple scar,severe decline of elasticity,etc)
eyes, face, body roller
,
factory derma roller kit
,
3 in 1 derma roller