Derma Pen
You are here: > Home > Products > Derma Pen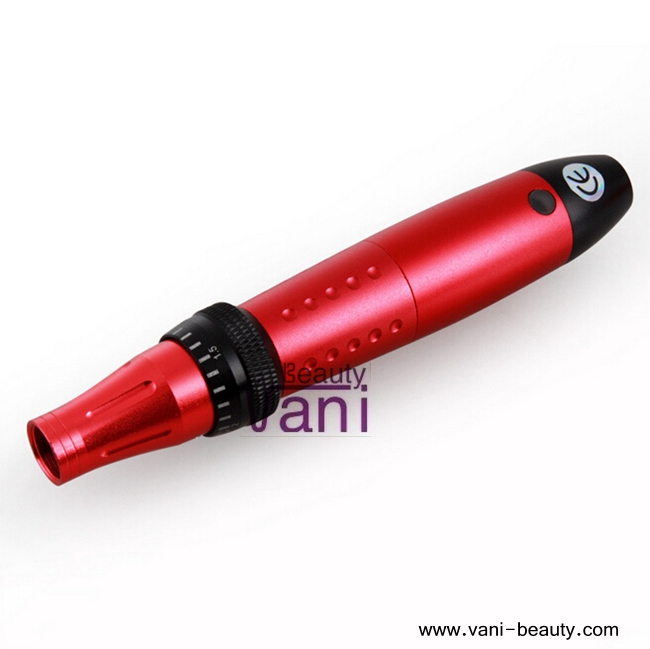 Share to:
Send Inquiry
Derma Skin MicroNeedle Pen for Skin Rejuvenation
AU014B
Adapter :4.2v-500MA

vibrating frecency:6000-9000r/m

Weigh: main body 56g

3 level vibration speed controlled

Needle length: from 0.25mm to 2.0mm adjustable

Needle No.:1/3/7/9/12/24/36pin needle, nano needle tips

Screw port type needle cartridge, plug in operation type
Derma Skin MicroNeedle Pen  for Skin Rejuvenation

How does skin needling work?

The premise is simple – create a small wound and the skin will respond with collagen production and new skin cells. Depending on the depth of the needle penetration, the DermaPen can offer skin rejuvenation levels from the simple enhancement of product absorption to the clinical treatment of scars and wrinkles.
What can the DermaPen be used for?

DermaPen allows the physician to quickly treat specific skin areas – large or small – to achieve a number of goals.
How deep does the DermaPen go?

From very superficial penetration to deep dermal penetration, the professional applications have a wide range of potential to improve and correct skin problems without the use of lasers. Penetration ranges begin at cosmetic depth of 0.25mm to clinical treatment depths up to 2.5mm.

    Lip wrinkles
    Skin Texture / Tone
    Pore appearance
    Increase product absorption
    Superficial facial wrinkles
    Skin texure on the neck
    Acne Scarring / Trauma Scarring
    Melasma and Pigmentation
    Textural improvements to chest
    Stretch marks

Treatment on the face is the primary location, but skin needling can successfully be used on any area of the body.

 
meso pen
,
Derma Skin MicroNeedle Pen
,
skin rejuvenation