Derma Gun
You are here: > Home > Products > Derma Gun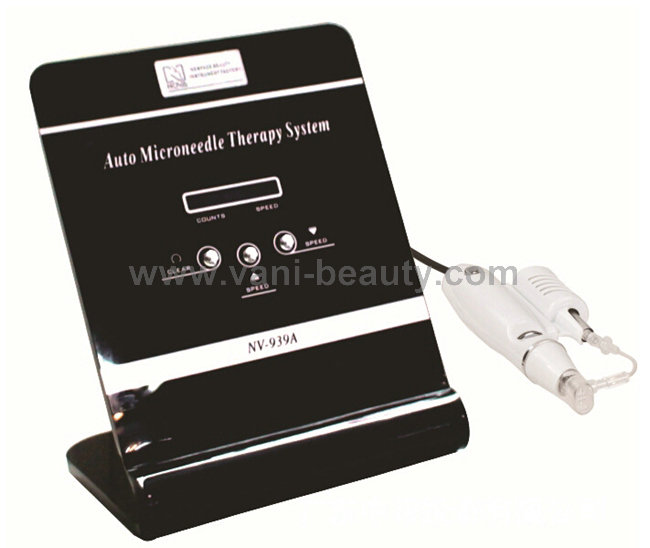 Share to:
Send Inquiry
Factory Direct Sale Micro needle Meso Gun with Liquid Storage Vessel
NV-939A
1. replace needle tips;
2. CE certificate;
3. auto derma stamp and derma roller system
1. Functions :
NV-939 is much more safe and excellent effect on piercing into skin by numerous needles automatically. So superior effect on collagen and elastin rejuvenation, direct EGF supply in deeper layer of skin without a epidermal damage. Its Vibrating function excellently increases the effectiveness of treatment by increasing absorption of products, on the other hand reduces pain & discomfort.
Advantages :
- Adjustable needle's depth
- Have a Ampoules to contain the solution
- No cross infection, using disposable needles
- Speedy more than manual MTS
- Much less pain due to vertical high speed
- Light weighed hand-piece
- Easier operation for narrow and curved area
- Lower prices of consumables
Application :
- Skin tightening, Lifting, Rejuvenation
- Cure acne scar & wound healing
- Improve wrinkles and fine lines
- Minimizing pole sizes
- Improving stretch mark
- Treating alopecia.
2. Parameters:
Functions

Specifications

Auto Micro-needle

Speed: 1-10 levels

Needle length: 0.5mm (default) or 1.5mm

Each shoot is counted (counter could be cleared and reset)
3.Packaging Details :
| | | | | | |
| --- | --- | --- | --- | --- | --- |
| Item NO. | Voltage | Frequency | Power | Measurement | Gross Weight |
| NV-939 | 100V-120V, 220V-240V. | 50Hz-60Hz. | 45 Watt | 30X26X36 CM | 3.5 KGS |