ICE Roller
You are here: > Home > Products > Body Meso Roller > ICE Roller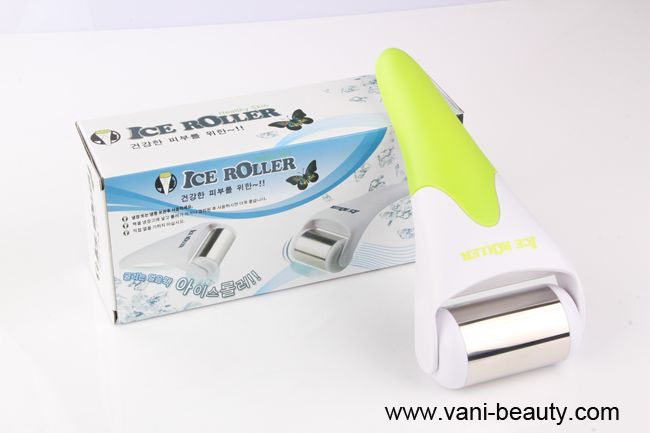 Share to:
Send Inquiry
Skincool Ice Roller At-Home for Face and Body Massage
A0010
Metal Ice roller massager
Release pain, stress, and discomfort
Keep in the freezer all the time
OEM
Skincool Ice Roller At-Home for Face and Body Massage for Micro Needle System Treatment
Ice Roller is a handheld device that has a water and gel filled rolling head that can be effectively frozen in your freezer. It can be used at any place to release pain and discomfort instantly. Ice Roller Professional has a rolling head that's made of stainless steel.
Benefits and how to use:
1. Use Ice Roller before/after cosmetic procedures (indictable, peel, laser and etc). It minimizes discomforts, irritation, and redness.
2. Use Ice Roller on your face, neck and chest every morning (Ice Cube Facials.) Your face will look revitalized and young. It's also prevents wrinkle formation and lifts your face.
3. Use Ice Roller on your eyes when you feel fatigue. It refreshes.
4. Roll over any part of your body for instant pain relief. It is a MUST HAVE item at home fro minor injury, burn and insect bites without making mess with melted ice.
5. Roll on muscle pain and tension.
6. After shaving, using Ice Roller will calm and soothe your skin.
7. Use Ice Roller for fever.
8. It is a great massage device after a great work-out or training.
9. Use it before waxing to minimize the pain.

Caution:
Keep Ice Roller in the freezer at all times. Do not heat the roller.

Features:
- It is convenient and clean as it is not to run water when use.
- It is convenient massage.
- It can use multipurpose like run a fever and before make-up, etc.
- Use after freezing blue liquid in refrigerator.