Derma Pen
You are here: > Home > Products > Derma Pen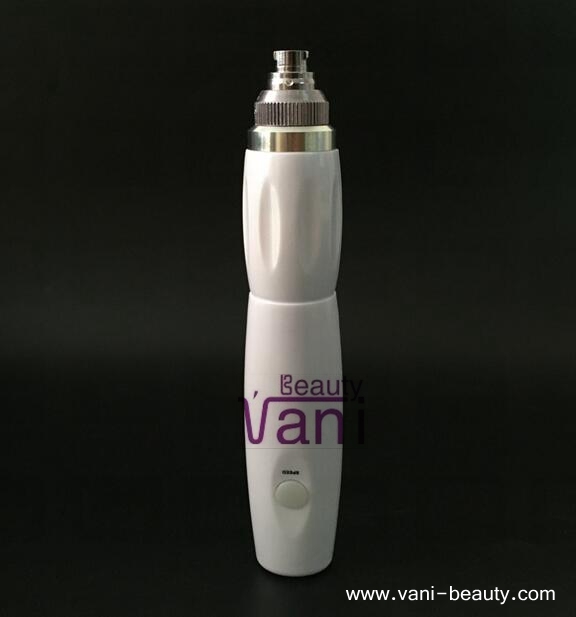 Share to:
Send Inquiry
Pure White Body Derma Rolling Skin Pen Wireless Mesopen
AU008
Power Supply: Rechargeable
Adapter: 4.2v-500MA
Vibrating frequency: 4000-6000r/m
Weigh: main body 56g
5 level vibration speed controlled
Needle length: from 0.25mm to 2.0mm adjustable, 31G
Needle No.:1/3/7/9/12/24/36pin needle, nano needle tips
can use 3 hours after charging
Bayonet coupling
Body material: plastics
Pure White Body Derma Rolling Skin Pen Wireless Mesopen
 Dermapen is an advanced skin micro-needling device that works to tighten, lift and rejuvenate the skin. The unique spring-loaded needle tip of the Dermapen® uses an automated needling motion that minimizes pain and discomfort, while better promoting an even absorption of topical serums, such as PRP, hyaluronic acid, hydrogenated collagen, Vitamin C and peptides into the skin. The results are youthful looking skin with even tone and texture and down-time of only one day.
Function:
Anti-Puffiness
Stretch Mark Removal and Stretch Mark Treatment
Acne Scar Removal, Acne Scar Treatment
Anti Wrinkle Treatment, Anti Aging
Hair Loss Treatment or Hair Restoration
Surgical Scar Removal.
 How to use it?
Before use checking points:
Operate it on the health skin 
Clean the hands of operator, and the operation area on skin should be cleaned. 
Disposable needles cannot be used repeatedly.
Operation:
Follow 3 steps of needling to enhance forming channels
Horizontally-vertically-diagonal
Each step has to be repeated 3 times at once.
Treatment: 6 treatment for one period, One treatment at the interval
Attention:
For the safety, use one roller per one person only.
Do not force the roller into the skin but simply use mild pressure.
Roller obliquely at the same intensity covering the same areas vertically and horizontally.
After the treatment, apply post-care solutions for the skin protection. Don?t apply water in the treated skin within 8-12 hours.

 Package includes:
1x plug
1x machine 
2 X PCS Titanium needle cartridges
1x Instruction book
1x Beautiful box as picture shows