Derma Pen
You are here: > Home > Products > Derma Pen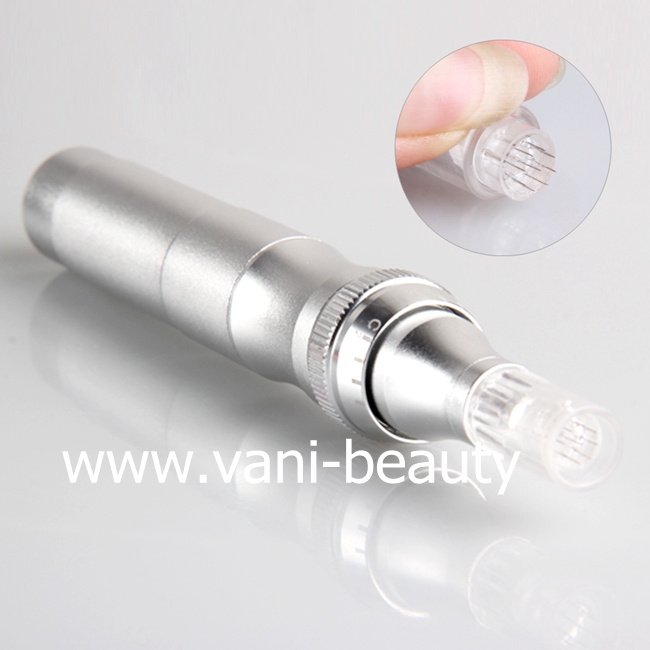 Share to:
Send Inquiry
DC Derma Pen for Eyelash Pregnant Electric Derma Pen Stamp Sliver
AU017A
Power Supply: Rechargeable

Adapter :4.2v-500MA

vibrating frecency:6000-9000r/m

Weigh: main body 56g

Body Color: white

Size: 14.7*3.1cm

5 level vibration speed controlled

Needle lehgth: from 0.25mm to 2.0mm adjustable

Needle No.:1/3/79/12/36pin needle, nano needle tips
DC Derma Pen for Eyelash Pregnant Electric Derma Pen Stamp Sliver
Automatic micro needle therapy system is a portable automatic micro needle Derma Rejuvenation Therapy. It is a Non-surgical skin rejuvenation treatment which is widely used for skin rejuvenation, enhancement of skin elasticity, wrinkle reduction, acne scar reduction, and stretch mark reduction, stimulation of Hair growth, whitening and administration of active ingredients. This device helps cosmetics to be penetrated and absorbed with stimulating the skin. It is an electronic, automated micro needle, with guide that adjusts needle length.
It is hygienic, convenient, easy to use, and also safe to use since the needle tips are hidden inside the guide. Needle tips are disposable. It is safe to share hand piece with other patient. It is economical; you just need to replace the needle tips after every treatment.
• Advantages:
1 - Visual and noticeable improvement in a few days from the first treatment.
2 - Short healing time.
3 - No permanent damage or injury.
4 - No bruising, infection, discoloration or other complications.
5 - Extremely high absorption of any active ingredients.
6 - Almost all skin types can be treated.
7 - Thickens the dermis without damaging or removing epidermis.
• Features:
1 - It is electric micro needle derma pen.
 Easy to carry and use at home.
 Use imported and durable micro-motors.
 It has professional package and CE certificate.
2. - Two high-performance lithium batteries.
  Do not need to work while charging, more convenient and safe.
 Two batteries can operate up to three hours.
3 - The needle is Imported Medical Stainless Steel / Nano Wafer .
 No cross-contamination – disposable needles.
Painless with nanometer micro needles.
Clean package passed CE certification.
4 - The micro-needle of depth can be adjusted(0.25mm-2.0mm), greatly improved the treatment.
 You can adjust the length of needle by turning the adjustment ring clockwise or counter clockwise, turning it clockwise, length of it will be longer, turning it counter clockwise, length of it will be shorter.
5 - Each Derma Pen has 2 12 needle cartridge tips.
 12 pin Cartridge needles: 0.35*45mm.
6 - 5 Level speed control:  Level 1 Green / Level 2 Sky Blue / Level 3 Blue / Level 4 Pink / Level 5 Red. It starts from the lowest speed to the highest, when you turn on the power firstly, the speed cycles low to high, but when you stop the machine temporarily, it starts from final speed of just before use.If you want to stop the machine, press the button for 2 second.
7 - Vibration frequency: 6500-8500 turn per minute.
 Strengthen skin to absorb beauty production, the absorbency of skin can be reach above 40 times, and improve acne scar more than 50%. The skin will be luster and elasticity, different from laser or chemical substances, it is non invasive, can improve skin and enhances absorption.

Note:
The needles should be bayonet coupling to fit it
derma pen
,
meso pen
,
derma stamp
,
auto micro needle stamp