Derma Pen
You are here: > Home > Products > Derma Pen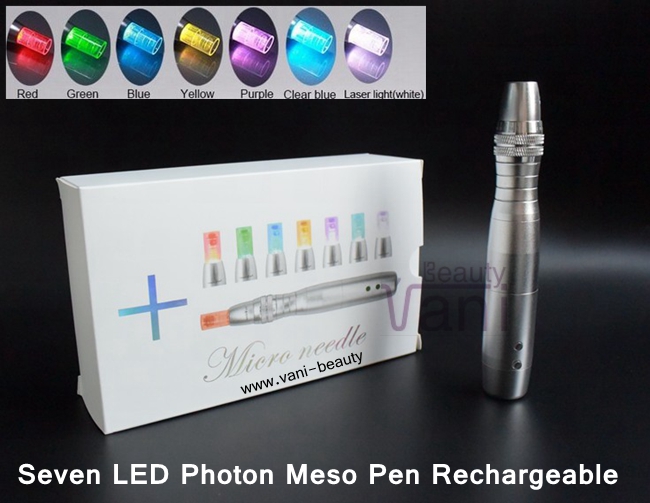 Share to:
Send Inquiry
VANI Surgical Derma Pen Instrument Seven LED Photon Meso Pen
AU035
Power Supply: rechargeable
Adapter: 4.2v-500ma
Vibrating frequency: 3000, 4500, 6000, 7500, 9000, 10000r/m
9/12/24/36/ nano medical needle/titanium needle
High quality metal handle
0.25-2.0mm adjustable needle
Speed:5 vibration speed controlled
7 colors LED light
VANI Surgical Derma Pen Instrument Seven LED Photon Meso Pen
1. What is it LED DERMA PEN?
The 7 colors LED Photon Electric Derma Pen is a motorized surgical instrument that uses a disposable needle tip cartridge, automatic, electric and rechargeable. Needle length is adjustable from 0.25mm to 2.0mm according to the areas and purposes of therapy. It is more convenient to treat narrow areas such as nose, around eye or mouth. Besides, the vibration speed can be controlled in 5 levels.


Photon Dynamic Therapy
Biological tissue of human body can absorb light and convert which can lead to a series of chemical reactions—photo decomposition, photo oxidation, photo polymerization, photo sensitization. Different wave length has different functions. The light can be absorbed by cell chondriosome and lead to enzymatic reaction.
Each LED Function:
What does it can do for you?
1. Wrinkle removal, acne removal, improve scar and skin rejuvenation
2. Narrow needle focus of the site (glabellum, wrinkle, scar)
3. Shrink pores
4. Treatment of striate gravid arum.
5. Improve wrinkle and fine lines
6. Treatment of acne scars and healing wounds
7. Anti-hair removal
8. Micro needle pen is very effective for kinds of skin care treatments.