PDT
You are here: > Home > Products > Home Use Beauty Machine > PDT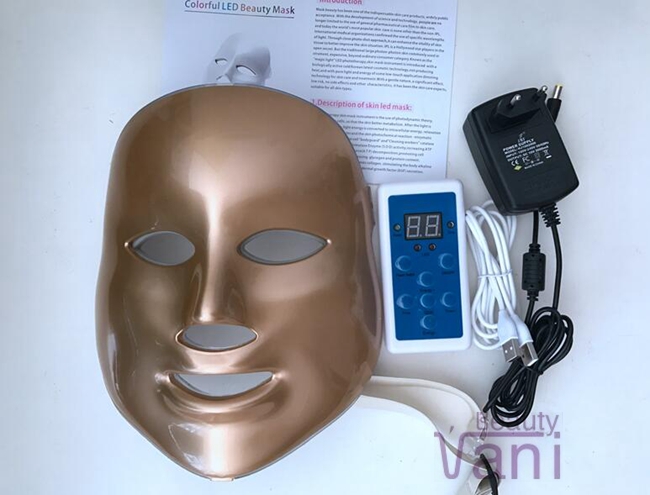 Share to:
Send Inquiry
Seven LED Photon Beauty Facial Mask
PDT003
Out put power: 10W

Weight: 1.5kg

Packing size: 25.0 * 25.0 * 25.0 ( cm )

Warranty: 1 year

Application: Home use

Function: Skin Rejuvenation

Voltage: 110V- 220V

Led QTY: 152pcs LED

LED color: Red,Blue,Green,Purple,Green Blue,white

Certification: CE

Product name: PDT Photon LED Facial Mask

Package Size: 29.0 * 25.0 * 17.0 ( cm )

Gross Weight/Package: 1.5 ( kg )
Seven LED Photon Beauty Facial Mask
Mainfunction:
1. Improve symptoms such as aging and loosening skin, big pore, slender wrinkles.
2. Improve pigmentary pathological changes, such as freckle, sunburn, senile plaques.
3. Improve dark complexion caused by bad metabolism or poor circulation.
4. Repair and nurse the damaged skin
5. Do detumescence, inflammation diminishing and scar elimination treatment for oil acne effectively.
6.Improve skin care products absorption.
Working Theory:
A. Scientific research reveals that light energy at specific frequencies can actually stimulate specific physiological functions of the skin, and low-energy light technology like LED (Light Emitting Diodes) can also deliver sufficient energy to stimulate a response from the skin to heal damaged cells. It is commonly known that the red light is particularly effective with inflammation and anti-aging. led light therapy skin photon rejuvenation acne remover beauty care led mask
B. The RED LED LIGHT-encourages collagen and elastin regeneration by stimulation fibroblast activity in the skin (increased fibroblast activity is responsible for collagen formation and tighter, younger looking complexion). It also helps to increase blood and oxygen flow to the skin and capillaries, therefore increasing cellular metabolism and strengthening the capillary walls, fantastic for Anti-ageing treatments for its tightening benefits. The RED light is also an excellent treatment for scarring, post-inflammatory (surgeries), and inflammatory condition in every type of skin condition, acne, hyper-pigmentation and rosacea. led light therapy skin photon rejuvenation acne remover beauty care led mask.
beauty equipment
,
LED mask for skin rejuvenation
,
Photon Mask